EXPERIENCED GUTTERING INSTALLERS
Complete the form below and a member of our team will contact you as soon as possible.
EXPERIENCED GUTTERING INSTALLERS
Complete the form below and a member of our team will contact you as soon as possible.
EXPERIENCED GUTTERING INSTALLERS
Complete the form below and a member of our team will contact you as soon as possible.
THE PERMANENT SOLUTION TO LEAKING RAINWATER GUTTERS
RUBBERISED PLYGENE GUTTERLINE SYSTEM IN NORWICH - MODBAY LTD
As industrial gutter repair and maintenance experts in Norfolk Modbay Ltd possess the skills, knowledge and experience to undertake all levels of industrial gutter works, from isolated temporary repairs to full profile gutter sealing systems some with long material guarantees.
Your roof can start leaking for an abundance of reasons, but the problem is often concerned with problematic gutters. Over time, concrete gutters in Norwich can crack and degrade, and pooling water can lead to algae growth and cause further degradation. You might be worried that because your concrete gutters are one of your building's permanent fixtures, you'll have no choice but to pay for costly repairs. Fortunately, thanks to Plygene Gutterline in Norwich, that's not the case.
We're proud to be installers of Plygene Gutterline, which is a revolutionary system for repairing concrete gutters. In addition to making your gutters waterproof, Plygene gutter lining in Norwich also prevents a heap of other problems that can lead to gutter failure, and you can feel confident that it will stand the test of time.
The 'Rubberised Plygene Gutterline System' forms a continuous waterproof barrier over existing gutters made of concrete, asbestos, aluminium, cast iron, steel and wood. The 'Rubberised Plygene Gutterline System' enables worn out guttering to be made as good as new without the inconvenience of removing the existing. Manufactured to customers exact requirements that material is cut and creased at the factory and supplied in one continuous length. 'Rubberised Plygene' is a durable, long-lasting, black plastic material specially formulated and manufactured for use in rainwater goods. It has been developed to enable an absolutely water-tight permanent drainage system to be installed in existing gutters.
Gutter Liners or Gutter treatments?
In situations where more extensive industrial gutter repairs or long term material guarantees are required, preparation and treatment of the entire gutter using liquid applied membrane, or installation of full profile gutter lining systems may be the client's preferred option.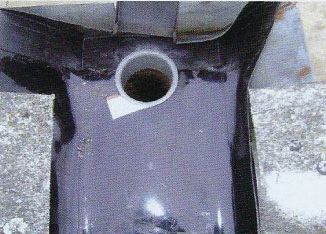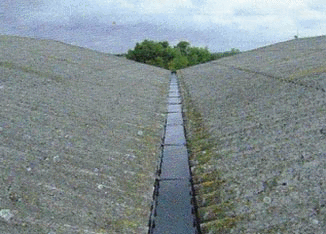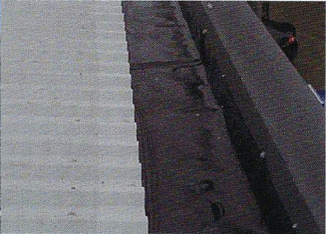 Plygene Survey
Plygene Gutterline surveys begin with a site visit to answer any questions the client may have and to inspect the existing gutter and associated areas of concern (photographic evidence is taken where needed). A full gutter profile measurement is then taken together with important notes, ready for precision manufacturing the new Plygene Gutter Liner off site.
Samples & Preparation
A purpose built Plygene sample can be supplied and fitted into position to check and ensure the Plygene Gutter Liner is sized correctly, then full precision manufacturing takes place off site. Because the new Plygene Gutter Liner is delivered cut and prepared to exact size, installation time is actually shorter (ideal in scenarios where time constraints are an issue)
Plygene Installation
As Plygene approved installers, we follow exact manufacturer guidelines when installing every Plygene gutter liner. Profile lengths are fitted into position and components such as boundary joints, outlets and stop ends are heat welded to finish. Plygene Gutter Liner acts effectively as a gutter within a gutter and comes with a 25year material guarantee.
RUBBERISED PLYGENE GUTTERLINE SYSTEM BENEFITS & ADVANTAGES
Reports & Cleaning
Work generally begins with a gutter clearance and investigation into the current state of the gutters. A range of photos are taken with close-ups of problems found, such as rusting, loose bolts, damage or leaking / residual drip marks between gutter joints. Then a damage report is presented which includes the photographic evidence and options for repair. To the benefit of our clients, our industrial gutter reports are much like an official roof survey, but without the thousands of pounds associated cost.
Gutter Repairs
There is a variety of methods and products that can be used for repairing industrial gutters, with the exact chosen process being based on existing gutter materials and requirements of the client. For example, if a shorter term temporary repair is all that is required (perhaps in situations where the client is soon to be vacating a building due to end of lease), or there is a need to work around client budgets, then isolated and localised encapsulating work to gutter joints and fixings may be preferred.
Registered Domestic Installers
For the first time, instead of temporary repairs or coping with the massive disruption and cost of replacing these built-in gutters, Gutterline provides an effective, economical and permanent solution. This is why it is now the fully approved system of choice for local authorities, housing associations, the MOD, NHS and thousands of private home owners.
Gutterline addresses both outer and inner troughs to create a one-piece 'gutter within a gutter' which makes it impossible for water to get behind or beneath. There's no structural work involved, making it a very cost effective system.
PLYGENE GUTTERLINE FOR CONCRETE GUTTERS
We use Plygene Gutterline because it's simply the best product available for repairing concrete gutters efficiently and effectively, yet it's one of the most cost-effective solutions on the market. Our gutter repair solutions are custom-made at your site, ensuring they're a perfect fit for your workplace, whether it's an office block or an industrial unit. Plus, Plygene Gutterline in Norwich can be used on standalone or adjoining structures.
All our fitters are trained to the highest industry standards and guarantee to make your gutters completely waterproof. Because our gutter lining comes on a single role and requires no messy adhesives, it can usually be installed within a matter of hours, ensuring your workplace doesn't suffer from water penetration for any longer than necessary. Learn more about the benefits of Plygene in Norwich by contacting our specialists today.
SEAMLESS LIQUID GUTTER LINER
The 'Liquasil' liquid gutter liner system forms a complete seamless and highly flexible lining that will eliminate leaks. Once installed, the gutter will no longer leak and because the liquid liner is bonded directly to the substrate, it will not lift, crease, crack, peel or otherwise deteriorate and rust will be a thing of the past! The 'Liquasil' gutter liner system is ideal for use in places where physical liners simply cannot go, so is ideal for restricted access gutters and those containing bends and corners. Suitable substrates for the 'Liquasil' liquid gutter liner include all metals (including oxidised lead and aluminium), asbestos cement and concrete.

The Liquasil liquid gutter liner system forms a complete seamless and highly flexible lining that will eliminate leaks. The key thing to remember about the Liquasil liquid gutter lining system, is that it's the only one available with a full Latent Defects Insurance Guarantee from an A-Rated, Lloyds of London insurer.
This is important, because our systems have all been independently assessed by the insurer's own auditors.
We call our gutter liner system "Gutterseal" – a generic name to encompass the entire system, though it is made up of a small number of component parts.
Commercial and industrial property gutter systems often cause difficulties as they age and each type has their own specific issues. Common to all however, is leakage at the joints and for this reason, we have included our Non-Sag Sealer within the Gutterseal system to eliminate joint leaks at their source, without the need to remove any fixings or replace rotted seals.
Clean the gutter of all debris and soil

Scrape/brush away all loose and flaking materials

Apply Liquasil SWT corrosion primer to all areas affected by rust (not affected by surface moisture)

When primer is cured and surfaces are dry, apply Liquasil Non-Sag Sealer to all joints (also fills small holes and cracks)

If the gutter contains standing water, brush this away and towel the surface

Apply one coat of Liquasil One liquid gutter liner to entire length of gutter
CALL US FOR ANY NEED RELATED TO INDUSTRIAL GUTTERS IN NORWICH
Whether you need us to repair your existing gutters or want to install your new building with gutters that will survive for decades with minimal-required maintenance, you can feel confident that we're up to the task. Contact us today on 01603 890051 to discuss your requirements, and one of our friendly experts will gladly provide assistance.