ROOF REPAIRS & MAINTENANCE
Complete the form below and a member of our team will contact you as soon as possible.
ROOF REPAIRS & MAINTENANCE
Complete the form below and a member of our team will contact you as soon as possible.
ROOF REPAIRS & MAINTENANCE NORWICH
As industrial roofing and cladding contractors in East Anglia, we undertake a wide variety of alternative and isolated works for clients, over and above our everyday roof cladding and wall cladding installations. Below are just a few examples of such works.
INDUSTRIAL ROOF REFURBISHMENT & REPAIR NORWICH
A unique two stage system for the treatment of cut edge corrosion for use on metal roofs – Guaranteed for 10 years.
Alongside the gutter, the other primary cause of roof leaks is a failure of metal roof cladding through corrosion. 'SheetGuard' is a silicon polymer based treatment system that has been developed in response to our customers who require a premier product to treat this cut edge corrosion.
Years ago, corrugated steel roofing sheets were merely just an agricultural installation product for barns and buildings and never really inspected. Now metal roof and wall cladding is widely used for commercial building elevations for roofs. Warehouses, retail units, hospitals and even modern apartment blocks and offices as a cost effective weather proofing aesthetic layer.
It is estimated that 60% of cladded buildings in the UK have cut edge corrosion, but many owners of commercial and industrial properties are not aware their business suffers from this problem and they often are not aware of what cut edge corrosion is and the effects that it can have to the water integrity of a building.
Why edge peel and cut edge corrosion
Within the metal cladding process, the corrugated metal sheets are coated in plastic such as a plastisol finish and the plastisol roof sheet coating prevents the underlying metal from being corroded by the elements and also improves the roof sheets aesthetical appearance in a range of standard and specialist colours.
When roof and wall cladding is procured from the steel rollers it is cut to the required size at the factory before delivery to site, the cut edge was not treated and is not protected or coated. It was then discovered years down the line that when the cut edge is exposed to oxygen and the elements it creates wide spread edge lap corrosion which is exacerbated by water and pollutants. Consequently, the roof lap cut edge corrosion continues to fail so that the corrosion becomes widespread as far as the first set of roof fixings, allowing water ingress and the potential of roof sheet loss via wind uplift.
The Repair Process
We are roof refurbishment specialists and are approved applicators for a range of cut edge corrosion coating systems to provide longterm watertight and corrosion free guarantees. Modbay can treat cut edge corrosion to prolong the life expectancy of the roof cladding. Whilst surveying the cut edge corrosion Modbay can complete a full roof survey and advise on other areas of remedial roof repairs that are required.
Cut Edge Corrosion Treatment
Liquasil's BBA Approved cut edge corrosion system is the most advanced system on the market. It's easier to apply, cheaper to buy and it comes with the Liquasil Latent Defects Insurance Guarantee in most cases.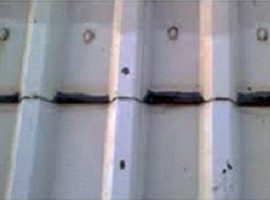 Corrosion primarily on surface. Apply SheetGuard Cut edge treatment.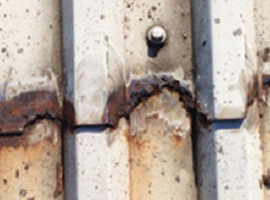 Corrosion effecting overlap sheet, but not reaching primary fixing. Apply SheetGuard cut edge treatment plus repair system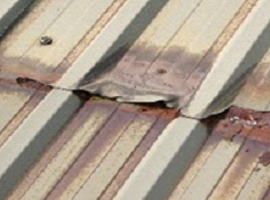 Corrosion to both under and overlap sheet, apply SheetGuard Cut edge treatment to full corroded area plus repair system where necessary.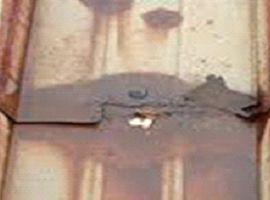 Severe corrosion, primary fixings possibly corroded, sheet failure likely. Roof replacement probably best solution.
The Only BBA Approved Cut Edge Corrosion Treatment
Designed by building surveyors and independently tested by The British Board of Agrément (BBA),  our cut edge corrosion treatment is vastly different from any other system on the market. Instead of masking the problem with paint primers, Liquasil's cut edge corrosion treatment includes a rust treatment that is already proven in the marine coatings sector. More than 1million sq metres of the primer has been installed during the past 15 years in the petrochemical and offshore sectors, with zero failures.
We call it SWT Primer.
Completely surface and wet tolerant, it can be installed directly to wet substrates, so poor weather downtime during the preparation stage is significantly reduced. Once cured, the  SWT primer is overlaid with the unique, hardened silicone top-coat, Flexlap, to extend the life of the system even further and provide a 100% UV stable finish that's available in any RAL colour. Liquasil Approved Installers also have access to highly advanced surface preparation techniques that will prepare the substrate to bare metal, leaving a clean and salt-free finish that can extend the life of coatings by many years.
Sealing overlapping roof sheets is not required in most cases and therefore, our cut edge corrosion treatment is designed to treat only the sheets that are suffering from the problem – the top most sheets.
Our discussions with metallurgists, roofers and building surveyors back up our assumptions.
This results in a far easier application method, significant material and labour savings and an altogether more robust solution to cut edge corrosion problems. Installers love it for the sheer simplicity and clients love it because it saves them money.
Surveyors and other specifiers also prefer it because our guarantee covers system design, so they'll never be caught out specifying a sub-standard system.
Our recent BBA certification adds another layer of assurance.
Liquasil Ltd is owned by building surveyors and our liquid roofing solutions are designed to actually solve the problems associated with commercial roofs. The Liquasil Cut Edge Corrosion System is so good  that most installations come with a full latent defects insurance guarantee as standard, when installed by a Liquasil Approved Installer. No other cut edge corrosion system offers this type of guarantee.
Roof / Wall Protective Coating
When existing plastisol coatings are peeling and degrading due to weathering and solar degradation, but cladding replacement or overcladding is not a viable option, we are often able to treat and overspray the existing cladding to improve its aesthetic look (ideal for end of lease handovers).
Rooflight Replacement
Rooflight replacements are the best option when the existing rooflights are irreparable, or where the GRP material has broken down past it's serviceable lifespan. A variety of rooflight options are available, including different thicknesses, grades and fire ratings, with options to upgrade to full step safe rooflights.
Industrial Rooflights/Skylights
Rooflight cleaning, repairs and replacements are common practice for Modbay industrial roofing experts. Our services range from encapsulating fixings to treating dilapidated rooflights to full replacement of GRP rooflights.
Pigeon Netting
Pigeon netting and other bird named control netting is used to stop birds gaining access into commercial buildings to create disturbance or damage through various gaps and small crevasses (examples being old asbestos capping or flashings that have separated or broken).
Profile Matching
When repairing or replacing sections of cladding on older buildings, the original profiles are often obsolete or no longer available. In such situations we are able to measure existing patterns and press break new cladding sheets to sit in-line with existing cladding once fitted in situ.
RECENT PROJECTS - BEFORE AND AFTER
FIND OUT WHY WE'RE AMONG THE BEST ROOFING COMPANIES NORWICH HAS TO OFFER
Before you assume your faulty roof needs replacing, you should call our roofing contractors to find out whether there's a more practical and cost-effective solution available. The next time you're looking for reliable roofing companies in Norwich, look no further than Modbay Limited. Call us today on 01603 890051 to learn more about high-value roof repair in Norwich.