ROOF REPAIRS & MAINTENANCE
Complete the form below and a member of our team will contact you as soon as possible.
ROOF REPAIRS & MAINTENANCE
Complete the form below and a member of our team will contact you as soon as possible.
INDUSTRIAL ROOFERS CROMER
Commercial and industrial customers come to Modbay in Cromer for all their roofing requirements. Businesses in Cromer come to us for many kinds of roof repair work such as water damage through to basic routine roof maintenance. Our Cromer roofing team are helpful and knowledgeable, with skills that are second to none. Modbay in Cromer are just a phone call away if you find yourself in need of roof repair work. Our roofing team will come to you quickly and work effectively to protect the contents of your industrial unit, as well as the people inside with a robust roof. Our roofing team will always do their utmost to repair a roof, as we know how undesirable a full roof replacement can be in terms of both finances and business disruption. So, if you want a roofing company in Cromer that truly understands your needs during roofing repair work, call Modbay.
COMMERCIAL ROOFERS CROMER
At Modbay, we undertake all manner of roof repair and maintenance work in Cromer. If your roof has been in place for a number of years or you need a roofing team to build a roof for a brand new industrial unit, we are on hand with our superior roofing skills and expertise to create you a premium treated aluminium or steel roof, designed to last around a century with minimal maintenance. We aim to keep things both simple and convenient for our Cromer customers. That being said, we always ensure that our roofing repair work is of the highest quality, robust enough to withstand all weathers and you wont need a further repair for many years. So, if an issue arises with your roof, no matter how small, call the Modbay roofing team in Cromer to repair it before it gets any worse.
COMMERCIAL CLADDING CROMER
We also offer commercial cladding to our customers in Cromer. Cladding is advantageous as it gives a building a less "industrial" look as well as providing extra protection for both the contents of your unit and the people working inside it. Speak to one of our friendly team in Cromer today to see whether or not cladding could be a good option for you.
Cut Edge Corrosion Treatment
Liquasil's BBA Approved cut edge corrosion system is the most advanced system on the market. It's easier to apply, cheaper to buy and it comes with the Liquasil Latent Defects Insurance Guarantee in most cases.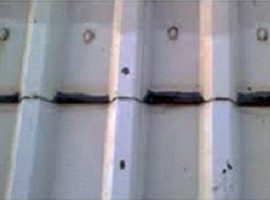 Corrosion primarily on surface. Apply SheetGuard Cut edge treatment.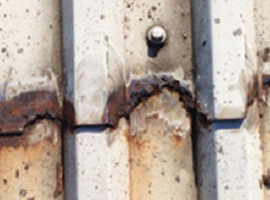 Corrosion effecting overlap sheet, but not reaching primary fixing. Apply SheetGuard cut edge treatment plus repair system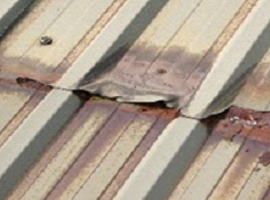 Corrosion to both under and overlap sheet, apply SheetGuard Cut edge treatment to full corroded area plus repair system where necessary.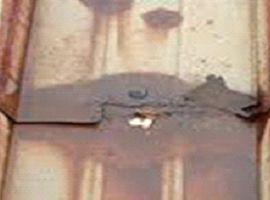 Severe corrosion, primary fixings possibly corroded, sheet failure likely. Roof replacement probably best solution.
COMMERCIAL & INDUSTRIAL ROOF REPAIRS CROMER
After having worked in the roofing industry for over three decades, offering quality roof repairs all over Cromer and beyond, we have become leaders in the area with full accreditation. Our reputation precedes us when it comes to roofing in Cromer as well as further afield as the elite roofing contractor. The team in Cromer have expert knowledge, with the ability to answer all your questions in relation to roof repair and roof maintenance. If you discover the need for a roof repair in your Cromer industrial unit, Modbay should be at the top of the list.
COMMERCIAL GUTTER REPAIRS CROMER
We have learned about the importance of effective gutter maintenance. As such, we now offer commercial gutter repair services to our Cromer customers. Good upkeep of your gutters and prompt repair of any issues can lengthen the length of your roof. Call us and we can look at bespoke guttering solutions for you.
RECENT PROJECTS - BEFORE AND AFTER
FIND OUT WHY WE'RE AMONG THE BEST ROOFING COMPANIES IN East Anglia
Before you assume your faulty roof needs replacing, you should call our roofing contractors to find out whether there's a more practical and cost-effective solution available. The next time you're looking for reliable roofing companies in Norwich, look no further than Modbay Limited. Call us today on 01603 890051 to learn more about high-value roof repair in Norwich.