ROOF REPAIRS & MAINTENANCE
Complete the form below and a member of our team will contact you as soon as possible.
ROOF REPAIRS & MAINTENANCE
Complete the form below and a member of our team will contact you as soon as possible.
INDUSTRIAL ROOFERS AYLSHAM
In Aylsham, Modbay are the elite in roofing and roof repair. Our professional roofing team are here to take care of all your roof repair needs, from water damage to small cracks. All roof repair work completed by Modbay are completed with absolute professionalism, leaving you with a roof to withstand the elements for many years to come. A robust roof also gives protection for both the people and the contents of your industrial unit in Aylsham. Our roofing prices are always competitive for our Aylsham customers as we do not routinely recommend roof replacements. We always keep roofing work as cheap as possible for our Aylsham customers, whilst never compromising on the quality of our roofing work. So, the best and most cost effective roof repair solutions are just a phone call away from Modbay in Aylsham.
COMMERCIAL ROOFERS AYLSHAM
All kinds of roofing work are completed by the expert roofing team at Modbay in Aylsham. When the time comes for essential roof repair work or roof maintenance, call us and we can make the necessary arrangements to come out to you in Aylsham and get your roof back to its safest and most robust, getting rid of any damage you have encountered. Using treated aluminium and steel, we use the best materials to give you the best roof repair. Once our repair work is complete, you have a roof repair designed to last somewhere in the region of 100 years with upkeep being at the bare minimum.
COMMERCIAL CLADDING AYLSHAM
We also offer cladding at Modbay in Aylsham, which gives industrial units a more pleasing image. It also gives another level of robustness and protection for commercial units in Aylsham. Get in touch with us today and we can explore the benefits of cladding for your industrial unit.
Cut Edge Corrosion Treatment
Liquasil's BBA Approved cut edge corrosion system is the most advanced system on the market. It's easier to apply, cheaper to buy and it comes with the Liquasil Latent Defects Insurance Guarantee in most cases.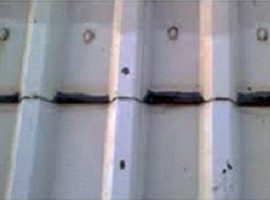 Corrosion primarily on surface. Apply SheetGuard Cut edge treatment.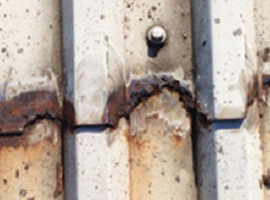 Corrosion effecting overlap sheet, but not reaching primary fixing. Apply SheetGuard cut edge treatment plus repair system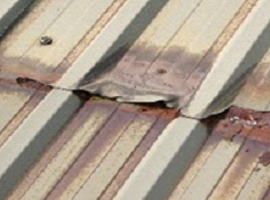 Corrosion to both under and overlap sheet, apply SheetGuard Cut edge treatment to full corroded area plus repair system where necessary.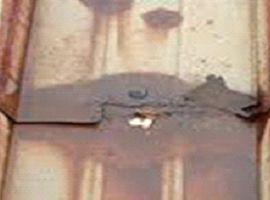 Severe corrosion, primary fixings possibly corroded, sheet failure likely. Roof replacement probably best solution.
COMMERCIAL & INDUSTRIAL ROOF REPAIRS AYLSHAM
The roofing team at Modbay have been providing cost effective and high quality roof repair work for our Aylsham customers for over 30 years. Our roofing team are among the most highly skilled in the industry and every question you have will be expertly answered by fully accredited roofing professionals, giving you absolute confidence in our roofing prowess. We have earned our fantastic reputation for our outstanding roofing skills and friendly service we never fail to provide our Aylsham customers.
COMMERCIAL GUTTER REPAIRS AYLSHAM
Effective guttering is of pivotal importance to give your roof a long life and to clear rainwater away from your Aylsham industrial unit. So, as a result we now offer gutter repair solutions to our Aylsham customers. All of our guttering repair solutions are bespoke to your industrial unit, giving you the best service and quality workmanship.
RECENT PROJECTS - BEFORE AND AFTER
FIND OUT WHY WE'RE AMONG THE BEST ROOFING COMPANIES IN East Anglia
Before you assume your faulty roof needs replacing, you should call our roofing contractors to find out whether there's a more practical and cost-effective solution available. The next time you're looking for reliable roofing companies in Norwich, look no further than Modbay Limited. Call us today on 01603 890051 to learn more about high-value roof repair in Norwich.