ROOF REPAIRS & MAINTENANCE
Complete the form below and a member of our team will contact you as soon as possible.
ROOF REPAIRS & MAINTENANCE
Complete the form below and a member of our team will contact you as soon as possible.
INDUSTRIAL ROOFERS ATTLEBOROUGH
When you encounter roof damage to your industrial unit, call Modbay in Attleborough. We are a professional roofing company with over 30 years' experience in the roofing industry, making us one of the most long standing roof repair contractors in the Attleborough area. Providing cost effective roof repair solutions, we keep your budget in mind, whilst still taking the safety of everyone working under your roof extremely seriously. Your safety is at the heart of what we do here at Modbay. We will only ever resort to a full roof repair when it is completely necessary, making us the honest and reputable roofing contractor we have become known for over the last 30 years. Whether you are encountering water damage or displaced roofing, call Modbay in Attleborough and we will be there to help you.
COMMERCIAL ROOFERS ATTLEBOROUGH
We carry out a full compliment of roofing repair work in Attleborough. From minor roof repair work to full roof replacements. We do it all. Using the finest aluminium and steel on all of our roofing work, your roof will have a long life of up to 100 years. Better still, the requirement for maintenance is kept to an absolute minimum. So, a new roof or roofing repair is a sensible investment for Attleborough customers for the long term protection of your stock and your workforce. Our Attleborough roofing team are renowned in the area for their fantastic workmanship and the quality materials used on all roofing work. So if you are looking for a quality roof, call Modbay in Attleborough without delay. The longer you leave any suspected issue with your roof, the worse it will become.
COMMERCIAL CLADDING ATTLEBOROUGH
As well as roof repair work, Modbay also offer cladding services in Attleborough. Cladding makes for a less unsightly industrial unit as well as extra protection. So, if you want that extra peace of mind that the contents of your unit will be kept safe, our Attleborough team will be happy to assist.
Cut Edge Corrosion Treatment
Liquasil's BBA Approved cut edge corrosion system is the most advanced system on the market. It's easier to apply, cheaper to buy and it comes with the Liquasil Latent Defects Insurance Guarantee in most cases.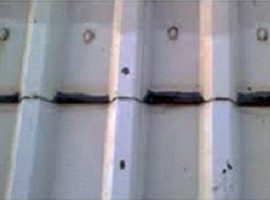 Corrosion primarily on surface. Apply SheetGuard Cut edge treatment.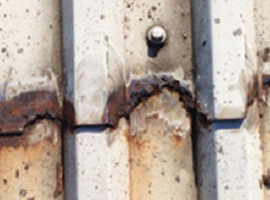 Corrosion effecting overlap sheet, but not reaching primary fixing. Apply SheetGuard cut edge treatment plus repair system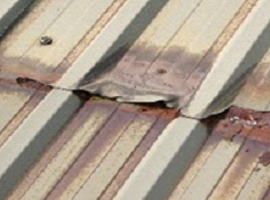 Corrosion to both under and overlap sheet, apply SheetGuard Cut edge treatment to full corroded area plus repair system where necessary.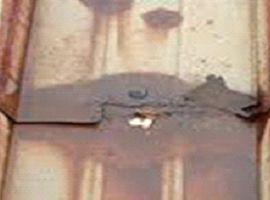 Severe corrosion, primary fixings possibly corroded, sheet failure likely. Roof replacement probably best solution.
COMMERCIAL & INDUSTRIAL ROOF REPAIRS ATTLEBOROUGH
Roof repair and maintenance are our primary operations at Modbay in Attleborough. However, we are able to answer any other roofing or cladding related questions you may have. We may also be able to carry out repair work on your roof that other roofing companies can't. So, call us as soon as you suspect an issue and we can investigate for you. We are fully accredited and as such have adequate capability to carry out any roof repair work you may need. Whether it's caused by leaks, weather damage or vandalism, we can help.
COMMERCIAL GUTTER REPAIRS ATTLEBOROUGH
Another service we offer to our Attleborough customers is guttering. We understand the need for effective rainwater clearance and the direct effect this can have on your roof. We offer guttering solutions bespoke to you. So, if you are in need of guttering repair work, call us and we will be there to help and repair any guttering issues you may be encountering.
RECENT PROJECTS - BEFORE AND AFTER
FIND OUT WHY WE'RE AMONG THE BEST ROOFING COMPANIES IN East Anglia
Before you assume your faulty roof needs replacing, you should call our roofing contractors to find out whether there's a more practical and cost-effective solution available. The next time you're looking for reliable roofing companies in Norwich, look no further than Modbay Limited. Call us today on 01603 890051 to learn more about high-value roof repair in Norwich.